Specification:
Bait Boat JABO-3CG
RC Bait Boat
Dimensions: 800*575*280mm
Weight: 9.4kg (with 2X battery)
Motor: 2X 540 Motor with reduction gear
Battery: 2X 6V/10Ah storage battery
Cruise Duration: 2.5h
Speed: 1.2 m/s
Max Load: 1.5kg X2
Sonar Frequency: 200KHz
Sonar Beam Angle: 20 degree
Ultrasonic Detect Depth: 0.6~32m
Detecting Water Depth Resolution: 0.1m
Amount of Hanging Line Devices: 2 pieces
Remote Channels: 6
Remote Range: 500m
Radio Frequency: 433Mhz
Hull Type: Double Hull & Double Propeller
Main Function:
Sailing forward & backward
Turning left & right
Casting bait
Releasing hooks
Low power alarm
Underwater dispaly function
Underwater Local-magnifier function
Water temperature detection (0~50 degree)
Unit Conversion (Meter/Ft; Centigrade/Fahrenheit)
GPS Function (for JABO-3CG)
GPS Precision: 5m
GPS orientation time: 1~5mins
Current logitude & latitude display
Distance measure function
Destination location memory X8
Features:
01. High quality engineering plastic made boat hull.
02. Adopting the structure of catamaran makes bait boat can sail smoothly, which has strong anti-wave property and large payload. It is fit for dropping and releasing hooks when fishing on sea.
03. It can release two hooks at a time. The two bait cabins can be used for casting baits singly or together.
04. Hermetic rubber strips are fixed on each hatch cover of the hull, which makes it keep an excellent waterproof property.
05. Power section adopts double 540 motors and gear group deceleration. Comparing with the motor direct driving propeller, it has highly enhanced efficiency. Equipped with two storage batteries, it prolongs sailing distance.
06. Equipped with directing light,it is convenient for operation at night.
07. Stepless speed change operation of motors realizes the actions of sailing forward and backward, turning left and right and spot turning.
08. Using ISM wave band 433MHz proportion remote control equipment makes the boat to equip a strong anti-interference ability and much farther remote control distance. Each boat has a unique ID code which makes it possible for several boats being used in the same water area simultaneously.
09. Use dot matrix LCD that can show the landform of water bottom.
Remote Controller:
01. Dimension 185*190*55mm.
01. Adopting 128*64 LCD dot matrix display pixel 59*36mm,it can show the contour of water bottom.
02. Water detection range 1~32 meters, resolution ratio 0.1 meter.
03. Sonar detection frequency: 200KHz
04. Detection range of water temperature 0~50.
05. User can define measurement unit, meter or foot, Celsius degree or fahrenheit degree.
06. Part enlargement function of water bottom is convenient for observing details.
07. GPS longitude and latitude shows the present place of the boat.
08. User can store 8 longitude and latitude places of releasing bait for coming back to release hooks next time.
09. Electric quantity display of boat dynamic battery and warning function of low voltage.
10. The remote controller work with AA battery X4 (not included)
11. The remote control distance reach more than 500 meters.
12. 16-bit detection ID.
13. User can choose 6-Channels.
14. Radio frequency 433MHz.
15. Radio power: 15dbw
16. Receiving sensitivity: -110dbm
17. Modulation mode: FSK
Gallery View: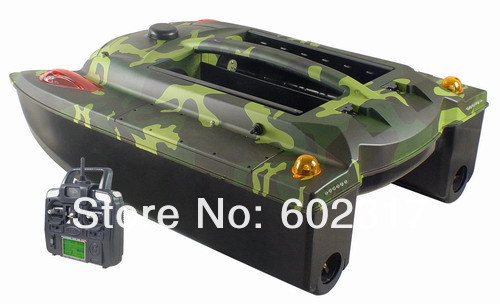 QS9012 helicopter 2.4G 3.5ch single blade metal gyro RTF QS 9012 rc helicopter W/ LCD Remote control ready to fly Free Shipping
US$ 82.32/piece
Update Version Biggest 134cm 3.5ch Gyro QS8006 rc helicopter 2 Speed Model W/ LED lights QS 8006 RTF Helicopter Supernova Sales
US$ 60.58/piece
Good quality IMAX B6 Digital Charger LIPO Battery Balance Charger for 2s-3s 7.4v -22.2v battery free shipping
US$ 22.40/piece
Free shipping wholesale 4pcs/lot Rc Mini Micro 9g Servo SG90 tower pro for 250 450 RC Helicopter Airplane Car Boat
US$ 11.45/lot
4 pieces / lot
Newest ST287 2.4G 4CH tank Wifi tank Iphone Ipad Electric Remote Control With Camera Toy For Children Free Shipping
US$ 73.27/piece
UDI Mini Quadcopter quad 2.4G 4CH UFO RTF U816 Upgrade u816a RC helicopter RC Aircraft Free Shipping
US$ 45.99/piece
Wholesales 2pcs/lot Flysky FS 2.4G FS-T6 6CH With LCD Display for RC Helicopter Airplane Glider Free Shipping
US$ 126.13/lot
2 pieces / lot
Newest Flysky FS FS-iT4 2.4GHz AFHDS 2 4CH RC Gun System Transmitter GT4 For RC Car Boat Free Shipping
US$ 151.08/piece