Net weight 0.53 kg per car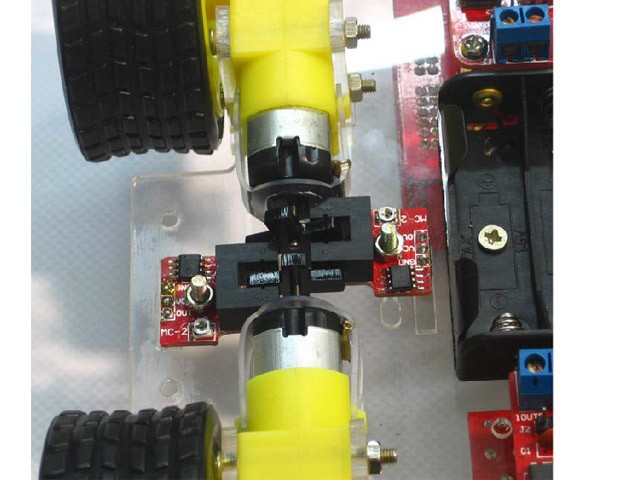 This car for sale only for suite
The influence of the width and length of the car:
The width and length of a car the best ratio, we found that car after a long test in as far as possible within the scope of widen the car's steering flexibility relatively stronger. We designed the car widened about 2 cm, at the same time the wheel to expand the ca. 0.8 cm, so the use effect of the improved better than the common narrow body of the car on the market, especially the aspect of turning, improved the car is widened we can install more equipment in the car.
Gen module loading day – many professional matching module, of course, all installed!
Welcome to choose professional stable day a robot module, complete, stable, low power consumption.
Whether 51 core board, AVR core board or integrated motherboard
Whether the power booster module or power step-down module
Both ultrasonic and infrared detection
Both speed measuring module and function module
Both control board and the universal plate
Whether it is…
All installed!!!!!!!!!!!
This is a single application:
This application is higher on the second floor: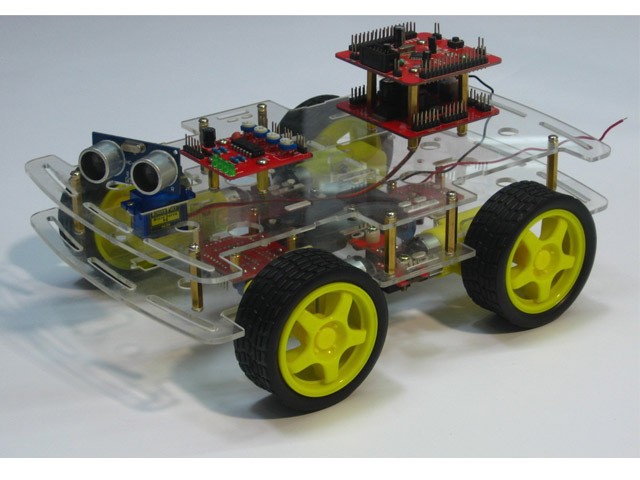 Speed system – MC – 2 precision speed measuring module (national patent)
Have to show the day of the exclusive patent precision the tail velocity measuring system, the car to send 2 pieces of speed measuring grating, you can directly buy our MC – 2 speed measuring module loaded directly to use, to achieve more precise speed, if you need to use this feature, black grating can be placed on the table, the motor end press gently into the grating, pay attention to the assembly don't hard, it doesn't matter if pressure is broken, buy our modules are supporting the tail grating. MC – 2 precision speed measuring system, make more straight, straight line direction by the way, to walk to the end! Let the smart car go further more straight!
Reducer ratio for 1:48, the wheels turn a circle, 48 laps, motor rotation wheel every turn a circle, speed measuring module capture the 48 x4 = 192 pulses, such as motor RPM 8000, speed measuring module to catch 192 x8000 = 1536000 times, 1.536 million times!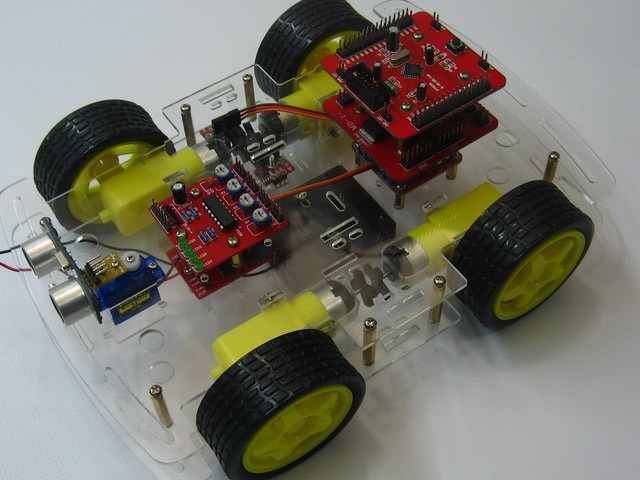 Steering gear – ultrasonic omnidirectional scanning
Specially reserved seats, more than 9 grams of car carry on ultrasonic module can be realized ultrasonic scanning probe in all directions, make your smart car smoothly and fast mazes, fire fighting, obstacle avoidance, and so on